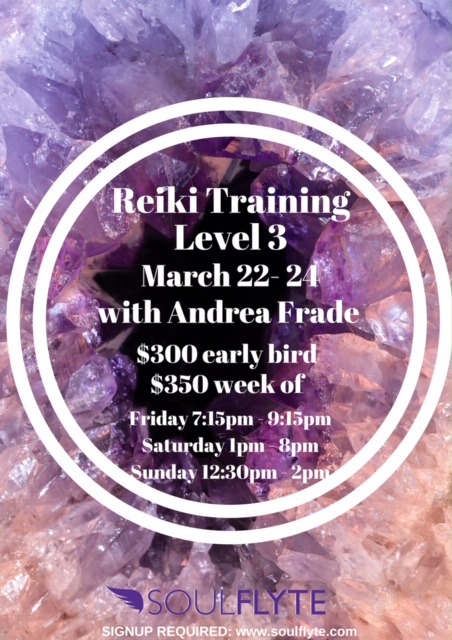 When we enter into Reiki training, a part of our being becomes aware again of something grand. We open past the point of what the immediate world will have us believe and see into something new. We begin to feel into a simple, yet powerful, understanding of the way things are.
Reiki teaches us to look in between the lines of what's there, to feel into the space between our thoughts, and to touch into the space in between one another. We learn to slow down and perceive.
Reiki provides us a way to stretch time, to open our minds, and work in the flow with universal intelligence. It reveals much about the way we perceive, sense, and feel into the understanding of our own experiences.
Each Reiki training has proved time and again to trust that whatever is needed will be provided. The practice reminds us that we are in a constant state of flow and that the many gifts which miraculously cross our path do so every day until we notice them. Reiki reawakens us to the given magic of universal intelligence and tunes us into the rhythm of divine connection. When we start to judge less, allow more, and listen in, we open up to the synchronicity that starts show up all around us.
In this context, Reiki becomes a deeply transformative process for the way you see and experience the world.
In this training, you will be initiated into Level Three Reiki Master Practitioner, learn how to use all four Reiki symbols, integrate the protocol for hands on healing and refine your techniques for long-distance healing sessions. Together we will create sacred space for working directly with your Reiki Angels and Spirit guides as well as discover your own wellspring of intuitive power as you deepen into your hands on healing work. We will also explore your intention for stepping more fully onto the path of healing for yourself and others.
As you become more deeply attuned, you gain greater insight into the nature of your own healing process and service to others. In this training, you will offer and receive Reiki healing, learn meditation techniques to stay grounded and centered, learn how to effectively manage your own energy + psychic space while caring for others, and deepen your connection with the flow of universal intelligence.
Space is limited.
Sign up required.
Price: $300 - early bird // $350 - week of
View Event →